No-cost AADC Deficiency testing supported by PTC Therapeutics
Work toward a potential diagnosis with just a simple blood test
PTC Therapeutics is supporting no-cost AADC Deficiency testing through a partnership with MNG Laboratories.
In patients with Aromatic

L-amino

Acid Decarboxylase (AADC) Deficiency, the neurotransmitter metabolite

3-OMD

is elevated in the plasma1-3
Reflex diagnostic tests will be conducted, including AADC enzyme activity analysis and DDC gene sequencing1
---
Why test for 3-OMD?
Typically, the diagnosis of AADC Deficiency requires cerebrospinal fluid (CSF) neurotransmitter analysis.
However, 3-OMD, which is a catabolic product of L-dopa that accumulates in individuals with AADC Deficiency, can be detected in their blood.4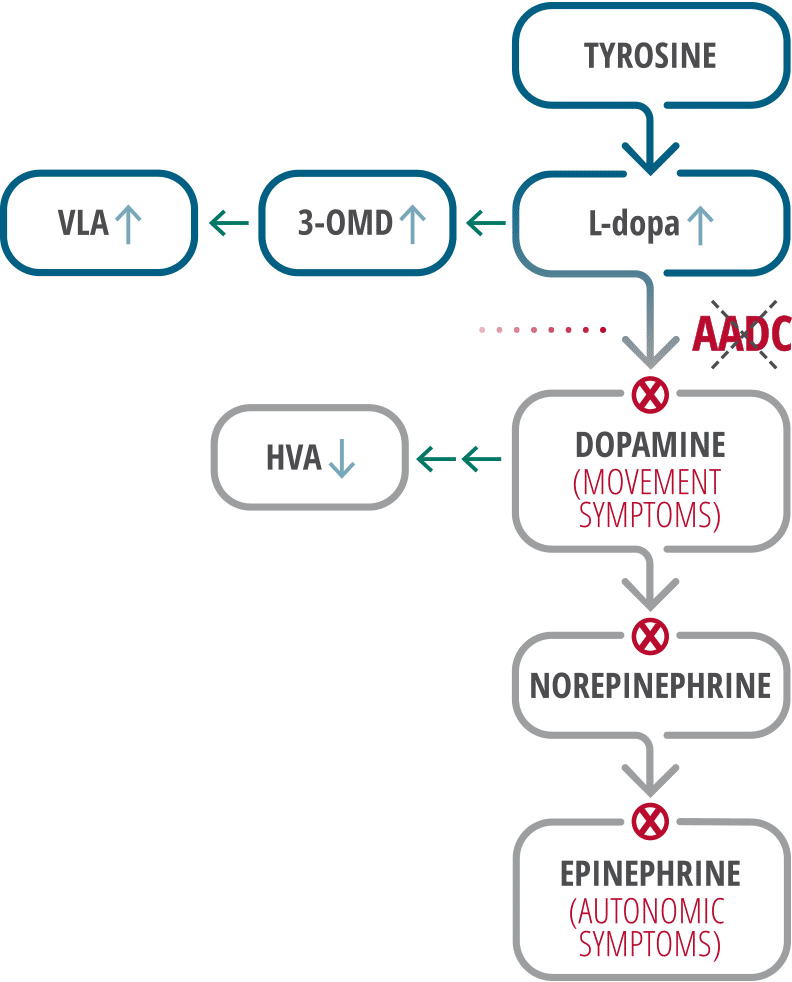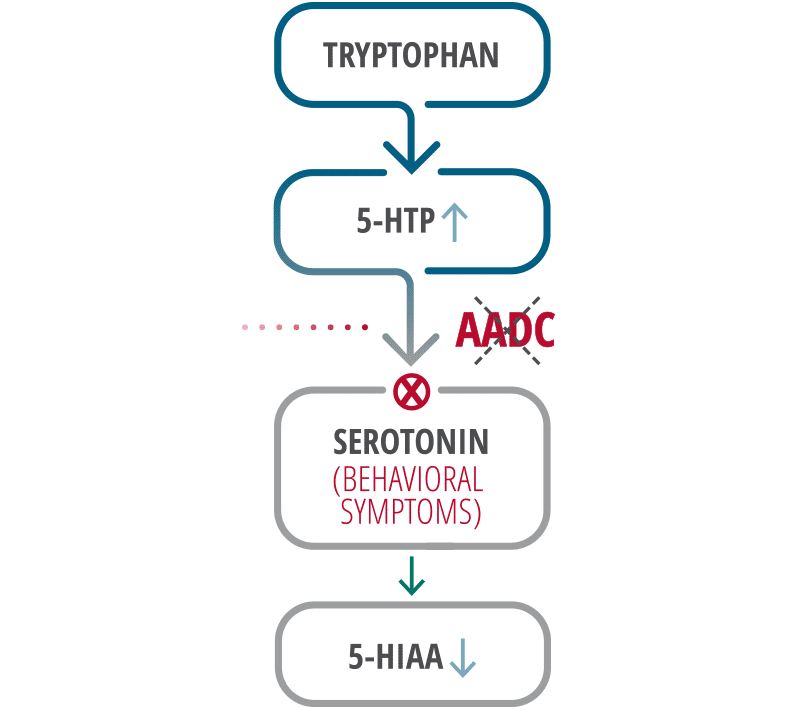 Adapted from Wassenberg 2017.2
3-OMD=3-O-methyldopa; 5-HIAA=5-hydroxyindoleacetic acid; 5-HTP=5-hydroxytryptophan; HVA=homovanillic acid; L-dopa=L-3,4-dihydroxyphenylalanine; VLA=vanillactic acid.
AADC Deficiency Diagnostic Laboratory Partnership
Order your testing kit at
www.mnglabs.com/ptc-kit-orders
MNG Laboratories (Atlanta, GA)
Tests offered
3-OMD (plasma); if 3-OMD is elevated, DDC gene sequencing and AADC enzyme activity (plasma)
Test code
MET29
What's required for testing?
All testing and shipping materials are included in the kit
A minimum of 3 mL of blood is needed, but 4-5 mL is preferred
Whole blood can be shipped in an EDTA purple top collection tube at room temperature
Results can be expected within 10 to 14 days
How it works
Blood is collected and shipped to MNG Laboratories to measure 3-OMD levels in the plasma
If 3-OMD is elevated in the plasma, additional testing is conducted to confirm a diagnosis of AADC Deficiency:
DDC full gene sequencing
Plasma AADC enzyme activity assay
---
What are the signs of AADC deficiency?
Discover the signs and symptoms that distinguish AADC Deficiency from other disorders.
AADC Deficiency Symptoms